Hey guys! I know I've been MIA for a couple of weeks, but my church was doing VBS and I had tons to do before it started. To thank you for being patient with me, I'm throwing the first ever Booky Bunny Giveaway! Yaaay! Let's start off with my review of the book.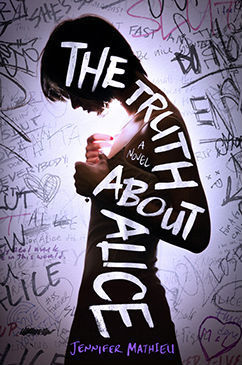 Info: Contemporary YA, hardback, 199 pages, a couple of weeks.
I was in a reading slump when I started reading this book, so it took me a while. But it is not a long or hard book, and I really enjoyed it once I made myself sit down and finish.
Synopsis: Everyone knows Alice slept with two guys at one party. When Healy High star quarterback, Brandon Fitzsimmons, dies in a car crash, it was because he was sexting with Alice. Ask anybody.
 Rumor has it Alice Franklin is a slut. It's written all over the "slut stall" in the girls' bathroom: "Alice had sex in exchange for math test answers" and "Alice got an abortion last semester." After Brandon dies, the rumors start to spiral out of control. In this remarkable debut novel, four Healy High students tell all they "know" about Alice–and in doing so reveal their own secrets and motivations, painting a raw look at the realities of teen life. But in this novel from Jennifer Mathieu, exactly what is the truth about Alice? In the end there's only one person to ask: Alice herself.
Why I Chose This Book: This was the book chosen by commenters/random drawing for the giveaway, and it sounded really interesting. I love perspective books and slut shaming is a big social issue right now.
What I Liked: As I said, I love books written from different perspectives. I liked that the characters knew what they were doing wasn't the right thing and acknowledged the power of peer pressure, social standing, and rumors. Since I live in a small Texas town like Healy, I can completely see something like this happening. Which sucks, and needs to change. Also, there will be another thing I liked after my final thoughts, underneath a spoiler warning.
What I Didn't Like: There wasn't a lot that I didn't like. This was a really good book. I loved the characters and the honesty shown in their chapters. In a perfect world, there would have been more that happened to the antagonists, but I know the ending given was the realistic one.
Rating and Recommendation: 4.5 stars. Read this if you like books about bullying, high school drama, and/or social issues.
Final Thoughts: This is a pretty good book. I don't know how often I'll reread it, but I definitely hope some kids read this and see the power of a small rumor. Words have so much power, and that power comes with serious consequences.
SPOILER ALERT. DO NOT READ AHEAD IF YOU WANT TO READ THE BOOK KNOWING NOTHING. 
I loved loved loved the last chapter. I didn't think there was going to be a chapter from Alice's perspective, which really upset me. I didn't want to go through this book without knowing her side. The whole problem the book points out is that only a few points of view are heard and never the one of the subject, so I was totally grateful that we got to see from her eyes. 
SPOILERS OVER. GIVEAWAY TIME!!
This giveaway is for one new hardback copy of  The Truth About Alice. No purchase necessary to win, only available to winners in the US. The giveaway starts today, and will end at midnight on July 27. There are tons of ways to earn entries! Check it out on the Facebook fan page!
xoxo,
Rachel