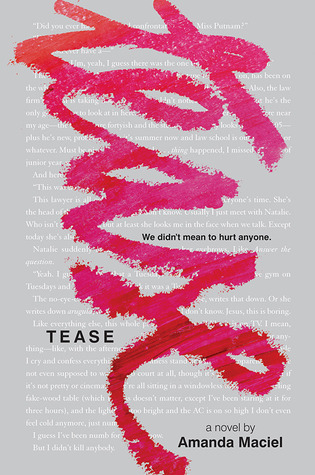 Info: Hardback, 328 pages, YA contemporary, published April 29, 2014
Synopsis: From debut author Amanda Maciel comes a provocative and unforgettable novel, inspired by real-life incidents, about a teenage girl who faces criminal charges for bullying after a classmate commits suicide.
Emma Putnam is dead, and it's all Sara Wharton's fault. At least, that's what everyone seems to think. Sara, along with her best friend and three other classmates, has been criminally charged for the bullying and harassment that led to Emma's shocking suicide. Now Sara is the one who's ostracized, already guilty according to her peers, the community, and the media. In the summer before her senior year, in between meetings with lawyers and a court-recommended therapist, Sara is forced to reflect on the events that brought her to this moment—and ultimately consider her own role in an undeniable tragedy. And she'll have to find a way to move forward, even when it feels like her own life is over.
First Impressions: I really like this cover. The tagline gives it a very tense, foreboding tone that matches the book very well. Also, it kind of looks like lipstick, so it gives the sense of a message written on a bathroom mirror. I'm a big fan of this cover.
What I Liked: This book…this book gave me a lot of complicated emotions. Since it's the bully's side of the story, we sympathize a bit more than we would otherwise. From page eight, Sara shows how selfish she is. She talks about how she has to go from legal meetings to therapy to summer school, "and people wonder why I'm not crying about Emma." Seriously, she's not a great person. But from what Emma 'does', I kind of hated her too. I mean, who hasn't looked down at the girl in their high school that sleeps around, flirts with everyone, and/or dresses provocatively? If you didn't, you were much more mature than I was. I mean, I was friends with a couple of girls like that for years, thought of them as sisters, and still thought their behavior was ridiculous. Now, I have more friends that act that way and while I don't think it's the best behavior out there, I don't think it's any less than the way I act. But in high school, few people are that socially developed. Those girls are seen as threats to relationships and reputations. That's what made Sara become a bully, and that's what made Emma feel like she didn't have an out aside from death.
This book was really hard to read. I saw a play inspired by it in my head, and one day I want to write that script. I think this book explores themes that are really important to address, and I think it should be required reading in high school classes, especially with bullying being such a current issue. It also shines light on double standards and sexism, which is another hot button issue today.
What I Didn't Like: Just that this was so hard to confront and wrap my brain around. I hated that I felt for this girl, and I hated that part of me hated Emma. I hate that there's not a sequel from Emma's point of view, or even just an outside perspective. I need to see what 'really' happened, and I need that now.
Ratings and Recommendations: For fans of The Truth About Alice, Hate List, Life by Committee. If you liked The True Story of the Three Little Pigs when you were little, you might enjoy this.
Final Thoughts: Really complex book, really important book. Read this if you don't mind being in a daze and questioning every motive you've ever had for a while.
Sound off in the comments: Have you read Tease? What were your thoughts on it? Are there any books it reminded you of while reading? What other books like it would you suggest to fans?