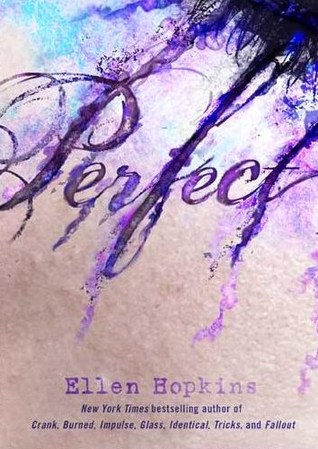 Info: Hardback, 622 pages, YA poetry/contemporary, published September 13, 2011
Synopsis: Everyone has something, someone, somewhere else that they'd rather be. For four high-school seniors, their goals of perfection are just as different as the paths they take to get there.
Cara's parents' unrealistic expectations have already sent her twin brother Conner spiraling toward suicide. For her, perfect means rejecting their ideals to take a chance on a new kind of love. Kendra covets the perfect face and body—no matter what surgeries and drugs she needs to get there. To score his perfect home run—on the field and off—Sean will sacrifice more than he can ever win back. And Andre realizes that to follow his heart and achieve his perfect performance, he'll be living a life his ancestors would never understand.
Everyone wants to be perfect, but when perfection loses its meaning, how far will you go? What would you give up to be perfect?
First Impressions: I love this cover. It might be my favorite of hers, though it's not my favorite of her books. I think it does a good job so showing that in trying to be pretty, things often go wrong.
What I Liked: I love Ellen Hopkins. Her books always hit me so hard even though they aren't necessarily relatable. Her characters often show the extremes of human nature and condition: teens turning tricks, teens getting addicted to drugs, teens in a mental hospital, teens getting abused, teens in every awful situation you can imagine. Perfect is no different. Perfect is the sequel to Impulse, my favorite Hopkins book. Cara is Conner's sister, and we get to see her side of what happened to him. It's probably the most relatable because its issues are more 'everyday': Eating disorders, steroids, discovering sexuality, pressure to conform to parental wishes, etc. These are things you'll see students struggling with in almost every high school.
What I Didn't Like: I didn't get the sense from Cara that she was a twin. Conner always felt distant, by that could have to do with the similarity between Cara and her cold, icy mother. That was really my only complaint.
Ratings and Recommendations: Good for fans of Ellen Hopkins, 'issue' books.
Final Thoughts: If you're looking for the lightest Hopkins book, this might be it. It's a good starter book for people wanting to get into her works and those like them. I love this book, but it drains you like crazy. Just like her other books.
Sound off in the comments: Have you read Perfect? Have you read any of the Hopkins books? Which is your favorite? What are your thoughts? What would you recommend to fans?