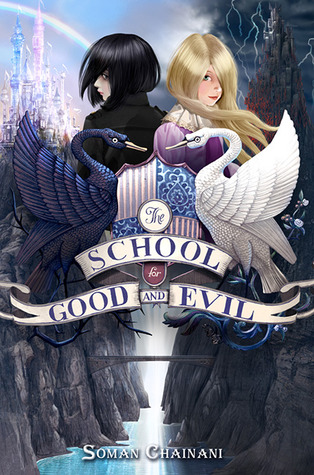 Info: 488 pages, Paperback, Middle Grade Lit/Fantasy, published May 14, 2013
Synopsis: The first kidnappings happened two hundred years before. Some years it was two boys taken, some years two girls, sometimes one of each. But if at first the choices seemed random, soon the pattern became clear. One was always beautiful and good, the child every parent wanted as their own. The other was homely and odd, an outcast from birth. An opposing pair, plucked from youth and spirited away.
This year, best friends Sophie and Agatha are about to discover where all the lost children go: the fabled School for Good & Evil, where ordinary boys and girls are trained to be fairy tale heroes and villains. As the most beautiful girl in Gavaldon, Sophie has dreamed of being kidnapped into an enchanted world her whole life. With her pink dresses, glass slippers, and devotion to good deeds, she knows she'll earn top marks at the School for Good and graduate a storybook princess. Meanwhile Agatha, with her shapeless black frocks, wicked pet cat, and dislike of nearly everyone, seems a natural fit for the School for Evil.
But when the two girls are swept into the Endless Woods, they find their fortunes reversed—Sophie's dumped in the School for Evil to take Uglification, Death Curses, and Henchmen Training, while Agatha finds herself in the School For Good, thrust amongst handsome princes and fair maidens for classes in Princess Etiquette and Animal Communication.. But what if the mistake is actually the first clue to discovering who Sophie and Agatha really are…?
The School for Good & Evil is an epic journey into a dazzling new world, where the only way out of a fairy tale is to live through one.
First Impressions: This cover is AMAZING. I love it! Totally gorgeous.
Why I Chose This Book: I got this book at North Texas Teen Book Festival, and luckily got the author to sign it. He wrote, "Rachel, which school is yours?" That question kind of stuck with me and I knew I had to read this novel next.
What I Liked: I loved the idea of this book. I love the vivid description of the schools, the illustrations kicking off each chapter, and how quickly things moved along. While it's a long book, I felt like it didn't take too long to get sucked in. Also, the
What I DIdn't Like: Some (most) of the characters felt very one-dimensional for a book that questions who we are underneath the self we present to the world. For example, one of the main characters is placed in the evil school, though she's grown up loving pink, make-up and fashion, princes, and ball gowns. She's vain and selfish and totally unaware of how she comes off to others…just like everyone else in the school for good. The things that made her evil side come out were the same things the other princesses got angry about. They all seemed to be nice for the sake of being nice, not because it's the right thing. The whole system revolved around rules: Good defends, Evil attacks. Good loves, Evil hates. Good forgives, Evil blames. There's a couple more, but those are the important ones. These rules make everything go crazy near the end, and at that point I was just trying to see what happens instead of really caring.
The characters went back and forth so much. I know that the main aspect of the book is examining the difference/balance between good and evil, but since I don't know the characters well enough, it just resulted in me feeling lost and confused. There's also tons of action, which I hate reading over and over. A couple scenes are fine, but there's so much in this book. Most of it is just kids running around the forest or chaos in a classroom, stuff like that. But anything that takes more than a couple of pages and doesn't really move the story along annoys me. The main aspects of the story also felt so predictable. By the time the main love interest was introduced, I could tell what was going to happen. There was a lot of stuff that happened along the way, and the ending was action-packed, but the core plot was so easy to guess.
Ratings and Recommendations: For those that like fantasy, original fairy tale retellings (though this isn't really one), the show Once Upon a Time, and books set in boarding schools.
Final Thoughts: It was a fast-paced romp with unfocused characters and a predictable plot. I'm definitely going to look for more from this author, as it was a debut with tons of potential. As to whether I'll actually finish the series…I'm not sure.
Sound off in the comments! Have you read this book? What did you think? Are you going to look into reading this book?