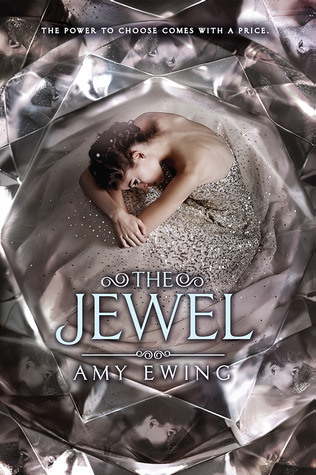 Info: 358 pages, hardback, YA Dystopian/Romance, published August 21, 2014
Synopsis: The Jewel means wealth. The Jewel means beauty. The Jewel means royalty. But for girls like Violet, the Jewel means servitude. Not just any kind of servitude. Violet, born and raised in the Marsh, has been trained as a surrogate for the royalty—because in the Jewel the only thing more important than opulence is offspring.
Purchased at the surrogacy auction by the Duchess of the Lake and greeted with a slap to the face, Violet (now known only as #197) quickly learns of the brutal truths that lie beneath the Jewel's glittering facade: the cruelty, backstabbing, and hidden violence that have become the royal way of life.
Violet must accept the ugly realities of her existence… and try to stay alive. But then a forbidden romance erupts between Violet and a handsome gentleman hired as a companion to the Duchess's petulant niece. Though his presence makes life in the Jewel a bit brighter, the consequences of their illicit relationship will cost them both more than they bargained for.
First Impressions: This cover, as many have said, just looks like a knock-off of the Selection. In fact, I honestly don't know if I would have picked it up were it not for the resemblance. Get it together, HarperTEEN.
Why I Chose This Book: I had just finished reading The Selection series, and I thought this might be a good follow up. (Spoiler: I was wrong.)
What I Liked: The descriptions. One thing I love to read is luxury. Maybe that's why I love The Luxe and stories of the New York Elite so much? The descriptions in this book were so gorgeous and vivid, I found myself angry because I wanted to SEE these clothes and rooms. I wanted pictures or sketches included of these ridiculously amazing sights (an entire city made out of precious gems and metals?! Yes please!!) Also, the auguries are super cool. I want them, but at the same time am so happy I don't have them. I liked the world, but I would have loved to have more world-building. I liked the romance, but it wasn't exciting. I'm getting sick of the forbidden love thing. It's becoming the new love triangle to me.
What I Didn't Like: At the end of this book, I was trying to talk about how I felt after it. And I swear, every other sentence was "I don't know." It was forgettable. When trying to describe it, it just felt silly. It left kind of a bad taste in my mouth. A lot of reviews talk about the insta-love, but I thought it was pretty realistic for these two. They were both raised in this world without choice since they were young (around 12 years old). She was taught that she would never have love of her own and her whole purpose was to be a surrogate for royalty. He was taught to be a companion, flirting and dancing (and more!) just to keep himself and his family safe. When they meet, it's the first time either of them have met someone that has a similar situation, and since they're emotionally stunted, of course they're going to have some insta-love. So I didn't really mind that aspect. But it was very Romeo and Juliet in that of course it's going to end badly and these are 17 year olds with the emotional maturity of 12 year olds when it comes to love. Because of this, I wasn't invested in the romance.
Ratings and Recommendations: I don't know.
Final Thoughts: I don't know. (I DON'T KNOW!!)
Let me know in the comments: Have you read this book? What did you think? Are you going to read it? Please help me identify my feelings towards this book.