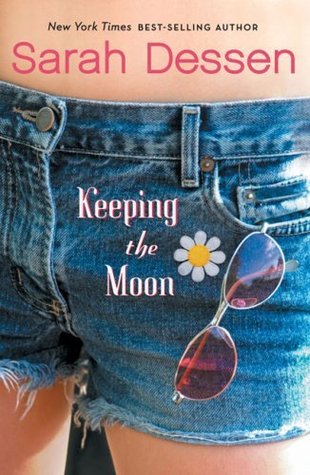 Synopsis: Colie expects the worst when she's sent to spend the summer with her eccentric aunt Mira while her mother, queen of the television infomercial, tours Europe. Always an outcast — first for being fat and then for being "easy" — Colie has no friends at home and doesn't expect to find any in Colby, North Carolina.
But then she lands a job at the Last Chance Cafe and meets fellow waitresses Morgan and Isabel, best friends with a loving yet volatile relationship. Wacky yet wise, Morgan and Isabel help Colie see herself in a new way and realize the potential that has been there all along.
Why I Chose This Book: This follows my tradition of reading clearance Sarah Dessen books while waiting for Half-Price to tally up my book offer. It also follows the tradition of getting me so caught up that I use some of the money they offer me to buy it.
First Impressions: At first, I didn't love the cover. It's generic, fits any early 2000's summer romance book. But the sunglasses, svelte body, and flower all tie into the story, so I'm not mad about it. Just wish it could have been done in a more deliberate way?
What I Liked: This book is so relatable. Most girls struggle with loving their bodies/fitness/weight/self-image. It's so empowering, it has amazing friendships, different kinds of love, there's tons of art and music involved. I just love so much about it! Kiki wasn't the stereotypical absent mom, and truly cared for her daughter. Also, there are some gorgeous quotes that pull on a subtle recurring theme of universes, and how everyone has a different view of the world. Mira and Norman had me heart-eyeing at them the whole time. And there's a bad-for-you love subplot that I totally understood and hated that it was so relatable! But it was accurate and true.
There's also a character that says mean, snide things and is just such a mean girl. And this book had a lesson that was all too true: (MINOR SPOILER ALERT)
We don't always get to tell off our Bea's. And that's something we have to find peace with.
SPOILER OVER
What I Didn't Like: How short it was! I always want more from Dessen. Also, I hated Mark and Bea!!!
Ratings and Recommendations: Fans of summer romance, YA, coming-of-age stories, feminist messages that don't hit you over the head with it
Final Thoughts: Loved it! It made me cry a couple of times. I can't wait for my next Dessen book!!
Sound off in the comments: What did you think of this book? What's your favorite Sarah Dessen book? Did you relate to Keeping the Moon? Let me know!